Make your all-terrain tires road legal
Speedometer-Calibration Mercedes Sprinter W906
CAN bus unit for calibrating speedometer and cruise control of the Mercedes Sprinter W906 from facelift model 2014.
Mercedes Sprinter W906
The Mercedes Sprinter W906 is a robustly built van that can be used for many purposes, including off-road operations. The standard vehicle, however, is not actually intended for off-road use. It was designed as a commercial vehicle and transporter to be driven on roads and paved paths. Nevertheless, it is relatively easy to make the Mercedes Sprinter W906 suitable for off-road use, e.g. by converting it to all-terrain tyres. Its good ground clearance and a robust chassis make it possible to drive over rough terrain. It was also available with an all-wheel drive option, which provides more traction and control off-road. Alternatively, the four-wheel drive can be retrofitted by specialised companies.
With larger all-terrain tyres on the Merecdes Sprinter W906, it is necessary to recalibrate the speedometer to make the tyres road legal. Our speedometer calibration kit is the perfect solution for this!
CAN-bus technology
This Speedometer-Calibrator is a CAN-node developed by us. If converting the Mercedes Sprinter W906 with large All-terrain tyres, it can be used to correct the speedometer and odometer to compensate different rolling circumferences. This will make tire conversions or changes to the differential road legal.
Function
The ABS/ESP-ECU is sending a speed signal via the CAN-Bus to the instrument cluster. The speedometer-calibrator is installed in the CAN-bus next to the instrument cluster and corrects both speed signal and odometer signal in real time. The correction factor can be programmed via our USB-interface.
The original wheel speed signals are maintained. Therefore it cannot influence the function of the ABS/ESP-ECU.
Installation
The installation is done with a few simple steps in the wiring harness of the instrument cluster. This is relatively easy to remove and the speedometer calibration can be pinned directly into the connector using suitable plug contacts. However, we recommend installation by an experienced specialist workshop.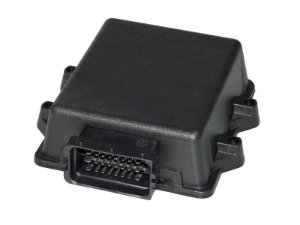 Technical data
| | |
| --- | --- |
| Correction factor | 1-255% |
| Power supply | 6-30V DC |
| Current sleep | 10 mA |
| Current max. | 35 mA |
| Temperature range | -40°C / +125°C |
| Protection grade | IP68 |
| EMC-approval | E1 10R-036407 |